Are you thinking about front door replacement but you are not sure if this is the right time for the project? Do you want to know the signs that your front door needs to be replaced? Do not search further; this write-up will let you know whether or not it's the right time to replace your front door. Without further ado, here are 5 signs it's time to replace your front:
1. Difficult Operations
Exposure to harsh weather and extreme temperatures usually cause front doors to degrade and develop structural problems, especially as they age. When your front door becomes too difficult to lock and unlock or becomes more of a workout to open and close, start planning your front door replacement project.
2. Condensation
If your front door has glass windows and you notice a moisture buildup in it, especially if the glass windows are two panes, your front door needs to be replaced as soon as possible. The excessive moisture in-between the panes indicates a structural problem that allows moisture to seep in. Over time, there will be mold and mildew growth in the glass and this may spread throughout the entire home. Once you see this sign, immediately include front door replacement in the priority list of renovation projects in your home.
3. Drafts
If you start to feel the outdoor air blowing into the home through the bottom or side of the front door, you need door replacement as soon as possible. This indicates that in soontime, your house will experience energy loss, especially when you run the HVAC, as warm or cool air will be escaping through the gaps. When this happens, your HVAC will overwork and this will result in high costs of energy.
4. Rotting Wood
Rotting doors usually result from past incidents involving water or insect damage. When either of these incidents occurs, wooden doors will suffer the consequences of wearing much faster than expected. The front door may rotten due to the wear and tear on the doors from ageing. In this case, the door should be checked if some parts are softer than others, which will indicate that the door has rottened.
5. Structural Damage
You will need door replacement if your current door has suffered noticeable structural damages such as dents, cracks, warping and damaged locks. The front door is the first thing that welcomes people to your home, so you should consider replacing the front door if it has lost its visual appeal and structural integrity. A warped door can no longer close or open correctly and it will be a great challenge to keep the door.
Takeaway
When you notice the above signs on your front door, you should plan to replace the door as soon as possible. They are signs it's time to replace your front door.
---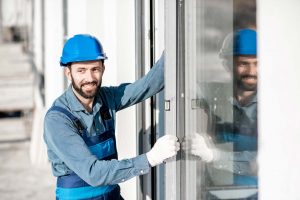 Windows play an important role in any home, they offer a view of the outside, they allow natural light to enter your home, they provide fresh air, they also play a significant role in your home's energy efficiency as well as safety and security. However, no matter how good your windows are, you will eventually need to replace them, as your windows are constantly exposed to harsh conditions.
When looking to replace your windows, there are a few key mistakes you would be right to avoid. To help you, this post will mention 5 awful mistakes you should avoid when replacing your windows.
Not hiring the services of a professional contractor
Window replacement is a complex project that requires skill and experience. However, in an effort to save money, you may be tempted to take on the project yourself. Even as a proficient do it yourselfer, there are many issues that can arise from installing your own windows. From voiding warranties to installing the windows incorrectly, these issues will all be costly in the future. Hiring a professional windows and door replacement contractor ensures your windows will be installed properly and you benefit from the peace of mind that your new windows are covered by a warranty.
Using price as the only factor for choosing replacement windows
Although cost is one of the most vital elements of any home renovation project, it shouldn't be the only element to consider. An expensive window isn't necessarily the best for your home. However, the cheapest windows are definitely not on par with the other options.
The best approach is to set a budget for your window replacement project and then look for the high-quality windows that fit into your budget. Your new windows should be energy-efficient, durable, well-designed, and beautiful.
Replacing outdated windows with the same type
Just because you had a certain type of window in your home for the past 20 years, it doesn't mean you need to replace that window with a same style window. This is your opportunity to consider functionality and design and choose a window style that better suits both in your home.
Keep in mind you don't always need to change the type of window during a replacement. In the end, you may want to replace an older sliding window with a new sliding window if that is the style and function you want as you will still benefit from the updated energy efficiency and security features.
Overlooking aesthetics
Of course, security, safety, comfort, and seamless operation are all vital factors to consider when replacing a window. But, this does not mean that you should overlook the aesthetics of a window. When installing new windows in your home or business, you should ask some important questions. Do I like these windows? Will they improve the curb appeal of my building? Can they add to the resale value of my home? Don't choose any windows unless they will boost the beauty of your home.
Buying windows that don't fit your location
The location of your home will affect the performance and durability of your windows. For instance, if you live in a location with lots of sunlight, you should opt for windows with Low-E glass as it can lower the effect of UV rays on your home. On the other hand, your windows must have high-quality glazing and impact-resistant sash if your location experiences lots of rain and strong winds. Consider your environment and the location of your property when buying windows so that you don't purchase windows that do not fit the needs of your location.
---
Are you asking yourself whether you should replace your windows and doors? Well, you probably are not alone as this is a frequent question among homeowners. It is not a small decision but is one of the only home renovation projects you can enjoy from both the inside and outside of your home. Replacing your windows and doors is a long-term investment in your home that yields plenty of benefits.
Here are the top 5 benefits of replacing your windows and doors. By the end of this article, you will have more information needed to decide whether it's a good idea to complete a window replacement at your home!
New Windows and Doors Boost Property Value
One of the main reasons why you should replace your windows and doors is their ability to boost your home's value. Most homeowners choose this type of renovation project because of the long-term advantages. New windows and doors will help you sell the property at higher price. Prospective buyers appreciate modern and functional windows and doors and market data shows that this investment can get you back at least 75% of the project cost during the selling process.
New Windows and Doors Improve Home Security
A major benefit of replacing your windows and doors is the improved safety and security. If you have old windows and doors, your property may be vulnerable to intruders. Burglars might be tempted by worn windows and doors, and you might not feel safe inside. But, what is even more concerning is that old windows and doors might make it difficult to escape in case of a fire or similar emergencies.
New Windows and Doors Improve Comfort
A well-known advantage of replacing windows and doors is the comfort offered. New products are designed with industry-leading materials to prevent your home from experiencing drafts or allowing allergens and dust to enter. If you want to increase comfort in your home, consider new windows and doors.
New Windows And Doors Boost Energy Efficiency
New windows and doors represent your goto solution if you are looking forward to improved energy efficiency and lower energy costs. These products are well-sealed and diminish energy loss. Besides, homes with new windows and doors don't experience any heat loss. As a result, the entire property will become energy efficient, and you'll be able to manage your costs wisely. The energy efficiency of new windows and doors will save you a lot of money in the long term.
New Windows And Doors Offer Peace Of Mind
Another benefit of replacing your windows and doors is the soundproofing qualities. Studies show this is the best approach to insulate your home and prevent outdoor noises from interfering with your comfort. New windows and doors offer peace and quietness, especially in a busy neighborhood.
These are our top 5 benefits of replacing your windows and doors. Keep in mind that to get the full benefit of the above, your new windows and doors need to be installed correctly and the best way to ensure proper installation is to trust your project to a professional windows and doors contractor. We encourage you to discuss with a windows and doors contractor before choosing any products. They will assist you in selecting the right window styles and materials for your needs.
---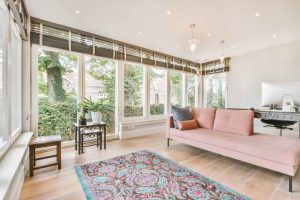 Window replacement can be an expensive project, especially when you want to replace all your windows at once. So, this is why some homeowners choose to replace the windows in their home one section at a time. However, there are times when gradual window replacement is not advisable or even possible.
But when can you replace some of your windows and leave others? Do you need to replace all your windows at once? These are important questions that will be answered in this post.
When should you replace all windows at once?
If your windows were installed over 20 years ago, you may start experiencing some issues that are associated with wear and tear, such as difficulty to operate and drafts. In these situations, it is advisable to replace all your windows at the same time, so you no longer need to deal with these issues.
In addition, if the locking system of your windows are faulty or get stuck, your home may be at risk. In this instance, it is paramount to replace all your windows together to prevent burglary, pest infestation, draftiness, and more. If you can see visible damages on a majority of your windows, you should replace all your windows at the same time. Visible damage can be in the form of gaps, scratches, chips, leaks, and cracks.
Finally, if your windows do not match your home's aesthetic or design, they can take away from your home's beauty and curb appeal leading to a lower value of your home. In this scenario, replacing all of your windows with more modern, beautiful units will instantly increase your home's appeal.
When can you replace some of your windows and leave others?
If your windows are still relatively new and the majority of your windows are in good condition, then you won't need to replace all your windows if only some of them have issues. You only need to replace the affected or damaged windows without needing to touch the others. This will help reduce the cost of your window replacement while increasing your home's security, efficiency and aesthetics.
What are the benefits of replacing all your windows at once?
Reduced costs of replacement
Gradual replacement of your windows may seem like a great idea as you can save up for the window replacement however, when you consider the overall cost of the project, you will probably end up spending more to replace all of the windows in your home. When replacing all of the windows in your home the cost per unit will more than likely be less and the labour costs will be lower. Also, the cost of window replacement may go up over time, so replacing them all at once secures your pricing.
Improved aesthetics, comfort, and value
When you replace all your windows at once, your home will benefit from a complete makeover, boosting the overall aesthetics and curb appeal of your property, which will lead to an increased value. Also, your entire home will feel more comfortable and peaceful as noise and drafts are reduced.
Increased energy efficiency
Based on the materials used and the manufacturing process, newer windows are more energy-efficient than older ones. Due to their energy efficiency, your windows will help keep your home warmer by reducing heat loss during winter and help keep your home cool during the summer months by reducing heat gain. This means you will be less dependent on your heating and cooling systems throughout the year, saving you on your energy bills and reducing the overall cost of your utilities.
---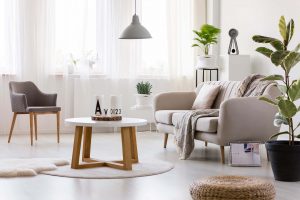 Why is it important to choose the right material for your entry door? Well, it doesn't only serve as the main entrance to your house. The entry door is also important to the security of your home. It also increases curb appeal, improves daylighting, and contributes to energy efficiency. It also gives people an insight into your style. So, when it is time for door replacement, be sure that the entry door matches or complements the overall aesthetics of your home. Here are 5 tips to pick the right material for your entry door:
1. Look beyond wood
Although wood is a common and traditional material for entry doors, maybe it's time to go for modern materials. Steel and fiberglass are great alternatives because unlike timber, they do not wear. They also require minimal cleaning and upkeep so you do not have to worry about cold winters and muggy summers to keep them in great conditions.
2. Do not ignore your house needs
Every house is different, so you have to pay attention to the specific needs of the one you live in. Consider adaptability to different seasons and weather. For the sake of protection from UV rays, you can get an entry door that offers ultraviolet (UV) light protection. This can protect your carpets, fabrics, and furniture from extra heat.
3. Go glazed
Upgrading your solid entry door with glass panels is great for functionality. How so? Glazed doors can admit the sun, which can contribute to the natural illumination of your foyer. If the inside of your house has many reflective surfaces, the light can penetrate deeper spaces and places.
4. Keep purchase within your budget
Of course, your entry door will come with a price but to avoid breaking your bank, you have to plan carefully. To do so, ask for recommendations from friends and family, see which material looks good in their homes. You can also seek help from experts and go over the pros and cons of your top picks.
5. Remember minor features
Be sure to opt for entry doors that are covered in low-maintenance cladding materials such as steel or fiberglass. Also, check for weather strips and advanced locks. These components are the underdogs of a stunning entry door design.
---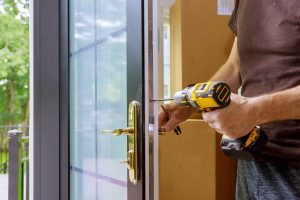 Your entry door is more than just a gateway into your home, it is the focal point of your front yard and what anyone that is approaching your home is focused on. It also has the ability to set the tone for your home's exterior aesthetics.
If you are considering an entry door replacement, there are a lot of options to consider, and choosing the right one for your home style can be tricky. To help you with your selection process, we have highlighted some of the important items you will need to consider below.
Consider the material of the entry door
Entry doors are available in a wide range of materials, but the most common materials are wood, steel, and fibreglass.
Wood – if you are looking for an attractive entry door, a wood door is a great option. Notably, wood doors can be built from a selection of wood types, but most are made of a hardwood as this ensures they are resilient and reliable.
Steel – is another popular choice for entry doors. In some cases, the inner frame will have wood while the outer portion is made of steel. However, there are also steel doors that contain almost 100% steel. You should note that steel doors usually cost less than wood doors and are more energy-efficient. A drawback is  that some steel doors tend to absorb heat.
Fibreglass– if sturdiness and ease of maintenance are paramount to you, you should consider fibreglass or a composite entry door. Fiberglass doors can be manufactured to have the same look like wooden doors.
Classic versus trendy entry doors
Home design trends tend to change quite quickly, when choosing your new entry door, you should consider what purchasing an on-trend door will mean in several years. Will you still love your door as much as you do today? If you are looking to add a touch of modern top to your home with a trendy front door, consider choosing a trendy door colour, this way if the trend changes or you are no longer in love with the colour, you can just have it painted.
Think about the specific needs of your home
Every home has its own unique needs. Regardless of the design and material of your entry door, it must be able to serve your home perfectly. For instance, if you live in a region with lots of sunlight, your entry door will be exposed to many ultraviolet (UV) rays. In such a case, you will need to get an entry door that offers UV protection.
Consider an energy-efficient door
An entry door with a higher energy-efficiency rating will help reduce heat loss and in turn reduce your energy consumption and bills. A major benefit of replacing your entry door is replacing it with one that will offer a higher rate of energy efficiency.  
Build a budget
Although investing in front door replacement can help increase your home's aesthetics, security and value, you should always have a budget set before searching for your new door. Entry doors come with a range of features that also increase the price. Having your budget set before looking at potential doors will help you stay focused on the doors that fall within your price range. 
---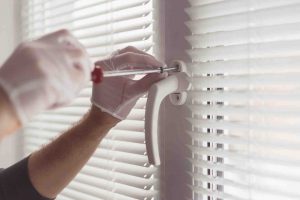 Although buying replacement windows for your old windows will cost you lots of money, it can help you to save money too. In other words, investing in new windows can go a long way in saving money that you could have wasted on repairing your old windows. Let's consider some simple ways through which replacing your old windows can save you some money.
1. Low maintenance
If your old windows are outdated and physically damaged, it will be necessary to spend some money on repairing them. Over time, the cost of maintenance can accrue to hundreds or thousands of dollars. However, with high-quality replacement windows, you don't have to worry about costly maintenance for a long time. Most new windows are easy to clean and also designed to look good for an extended time.
2. Improved energy efficiency
Based on their designs and materials, most old windows are poorly insulated. Therefore, they tend to be drafty after using them for some years. Unfortunately, drafty windows will increase your heating and cooling costs. This is because the windows are not energy efficient, so you will need to rely on the use of your HVAC unit to keep your home cool and comfortable.
Luckily, new windows are made with top-notch energy efficiency features. These replacement windows will prevent heat gain during the hotter days and heat loss during the colder seasons. In addition, many of them are double- or triple-pane windows that can increase the energy efficiency of your home. They also have argon gas that gets rid of drafts and offers exceptional comfort throughout the year.
3. Increased home's value
If you intend to sell your home now and later in the future, replacement windows can help you to save money. No homebuyer wants to spend on a property with outdated and physically damaged windows. So, if you can upgrade your windows, you will attract more potential buyers. At the end of the day, this can make a big difference in the amount you will sell the home.
4. Improved security
Last but not least, replacing your old windows can save you money through the improved security that your home will enjoy. Most new windows come with top-quality lock systems that can protect your home from unauthorized entry. Unlike your outdated windows, replacement windows are strong, so it will be difficult for burglars and thieves to break into your home.
Apart from your peace of mind, the improved security will also save you lots of money. With your property safe, you don't have to spend money on buying replacement items for your stolen possessions.
---
Are you planning to replace your windows? Well, before you sign the dotted line for replacement windows, there is some basic information you need to know that can help you select the right windows for your home and also ensure the success of your window replacement project.
Here is the run down on what you should know before replacing your windows:
Various Window Frame Materials are Available
The first thing you need to know is that different kinds of materials are used for building window frames. The most common materials are wood, fibreglass, aluminum, and vinyl. Before replacing your windows, you should look into the pros and cons of these popular window materials. 
Wood frames are known for their beauty, energy-efficiency and longevity. However, they require additional maintenance versus other materials and tend to be a bit more expensive than other material types. Fibreglass frames are energy efficient and thin, but they often deteriorate after some years. Affordability and energy efficiency are the major pros of vinyl windows, as well as their low maintenance. Their draw back is longevity, as they will last roughly 20-25 years. Aluminum frames are also budget friendly and beautiful. Unfortunately, they are not as energy efficient as other materials.
Window Replacement Can be Done All at Once or Gradually
When it comes to window replacements, you can opt to complete a full home window replacement at the same time or you can choose to replace a select number of windows and upgrade your entire home gradually. However, the most popular option is to replace all of your windows at the same time, this ensures uniformity in aesthetics and efficiency. However, this does depend on your budget and the overall condition of your windows. 
DIY Replacement is Not Recommended
Taking on DIY projects as a home owner can be fun and provide you with a sense of accomplishment, however, a window replacement is not necessarily one of those projects you want to take on, unless you are a proficient craftsperson. This is because replacing your windows is a delicate task that requires some experience and skill. Even a minor mistake can result in damage to your window or improper operation. Not to mention, many manufacturer warranties re only valid if the windows are installed by a professional. 
The Architecture and Landscape are Important Considerations
Before replacing your windows, you should think about the architecture and landscape of your home. These factors can determine the amount of light and air that your replacement windows will let into your house. They can also influence your decision on what type of windows to select for your property, as not all styles may fit in. 
There Are Different Types of Window Panes
The energy efficiency of your windows greatly depends on the type of glass used. Ask about the type of glass utilized in your windows before buying them. Generally, most windows come with double paned glass, but you can opt for additional energy saving features such as argon filled, Low-E coatings and even adding an additional pane. Apart from being energy-efficient, it offers additional sound insulation.
Before signing the dotted line for your new replacement windows, make sure you take the time to look into your options and ask questions about your new windows. Keep the above in mind as you do. 
---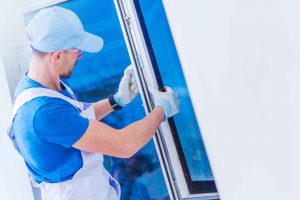 Windows can be the entry points for burglars, vandals, and other criminals into your home. This is why it is important to never overlook boosting your window security. With improved window security, you can rest assured that your loved ones and valuable items are safe in your home. If you are concerned about increasing your window security, here are 5 vital things you need to do:
Inspect your windows thoroughly
Firstly, you should inspect your windows thoroughly. This allows you to evaluate any security risks that your home is exposed to. You should pay attention to outer windows, as well as windows on the first floor as they are usually more accessible to criminals.
In addition, some windows tend to be more vulnerable than others. These include broken windows, old windows, and windows with poor locks. If your windows are vulnerable, consider replacement windows.
Are there potential hiding spots such as shrubs, lush trees, or bushes blocking your windows? Unfortunately, these spots are areas that burglars and other intruders tend to use to take cover when breaking into your home. To prevent this, consider trimming the trees and shrubs around your home. If you prefer to have plants by your windows, consider planting thorny bushes which make undesirable hiding spots.  Furthermore, you should install security cameras around your home, especially in hidden spaces.
Generally, some windows tend to be more secure than others. For instance, safety windows are often difficult to break, making your home less susceptible to a break in. Therefore, if you are looking for a safety window replacement for your home, you should consider tempered glass windows or polycarbonate windows.
Improve your window locks
Every window has a built-in locking system. However, many of these window locks are usually not strong enough to prevent criminals from breaking into your home. Therefore, you can choose to install reinforced window locks. Some of the best window locks available in the market today include keyed, sash, pin, and hinged wedge locks. You can install most of these locks yourself, just make sure they are compatible with your existing windows.
Install security bars for your windows
Although many individuals consider window security bars to be outdated, they can help prevent criminals from entering your property. Sometimes, an intruder may smash your windows successfully and try to squeeze into your home. However, if you have installed security bars, there is no way for intruders to come in.
In case you are concerned about the aesthetics of window security bars, there are many elegant and stylish options available today. Talk to a window expert about what security bars they recommend. 
Takeaway
By following the tips mentioned above you can protect your home and keep your loved ones safe. Whether you choose to add additional security measures or want to replace your old windows entirely, you can make your home a safe place. Talk to a windows replacement expert today if you have any questions about window security!
---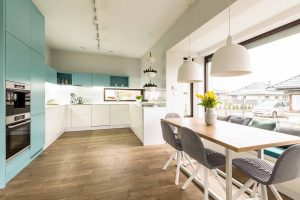 Replacing your windows is a wise investment to improve the overall functionality, aesthetic and value of your property. However, before buying replacement windows for your home, you must consider several factors in order to make an informed decision. Read the tips below for what to look for when buying new windows.
1. Window Style
Windows come in different styles so it's important to choose the right one for your home. Determine the right window style that not only improves your home's aesthetics but also enhances its architecture. For instance, in a modern home consider choosing slider, picture or awning windows as opposed to traditional windows.
2. Window Frames
It's important to consider the material that the window frame is made of when installing replacement windows. Window frames can be made using wood, vinyl, aluminum, wood-clad or composite materials. Make your decision based on the price, benefits and drawbacks of each of these materials when picking a window frame that will compliment the replacement windows you choose. 
3. Energy Efficiency
When choosing replacement windows for your home, it is essential to consider their energy efficiency. The main factor that determines the energy efficiency of a window is the type of glass it is made of. There are single-pane, dual-pane, and triple-pane glass, which can also be enhanced with Argon gas to improve the energy efficiency rating of the replacement windows. You can save money on energy bills by choosing highly efficient windows such as triple-pane windows enhanced with Argon gas.
4. Window Sizes
Be sure that your new replacement windows are the same size as your previous windows. Take measurements to ensure that you purchase the correct size. Majority of the time, custom windows are needed. If you have custom windows installed in your home, the window manufacturer will build the replacement windows to your exact specifications.
Takeaway
Buying replacement windows can be made hassle free when following the tips above. Be sure to pick the right style, frame and size when purchasing replacement windows. Also, ensure that you hire an experienced window installer to get the best results possible. Regardless of the window brand you choose, installation matters. 
---